John Legend was in Nigeria for 'This Day Awards" that was held last night at the Eko Convention Center. He joined the list of A-list celebrities that have visited Nigeria within the past two months. Last December, Cardi B, Megan Thee Stallion and Future, all American rappers, headlined different concerts in Lagos and brought a lot of international recognition to the country through their visits. Cardi-B's tremendously successful show also set the precedent for what other American artists should seek to do while they are in the country.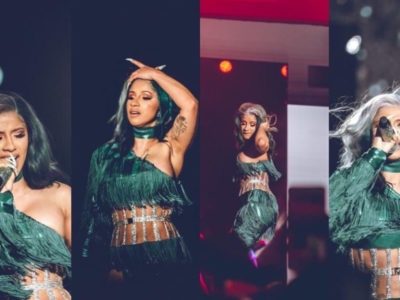 This year, Stormzy is set to visit Lagos as a part of his H.I.T.H World Tour in October but there are some American artists we would definitely love to see in Nigeria this year.

Rihanna: Riri has been teasing new music for a while now but she is yet to release the album or any information about it. Hopefully, after releasing her last solo single in 2016, Rihanna will finally heed the call of her loyal fans. If Rihanna drops the album, there'll definitely be a tour and how awesome would it be for her to add Nigeria to that tour list?! We already know that she has the fan base to make that concert sell out in minutes, so what are you waiting for sis? Let's go!
2. 
Chris Brown: Nigerian fans of the pop singer assumed that he was going to be in the country last December for Davido's concert but he was a no-show. But we love Chris Brown and his music too much to not give him a second chance. Breezy, this year will be as good as any to headline a concert here in Lagos, we promise to welcome you with open hands, so let's do this!
3. 
Lizzo: With all the energy that Lizzo has to share, her coming is bound to be just as memorable as Cardi's was. It is also a bonus that she has quite the fan base here in Nigeria and her songs are so groovy. Lizzo in Nigeria is going to be all shades of fun and we just hope that she can somehow find her way here this year.
4. 
Kanye West: In 2007, Yeezy performed in Nigeria at the Star Mega Jam but he is now long overdue for another visit. Although he is famous for controversy, his recent switch to gospel music means you can expect a wide variety of Nigerians to show up for his concert. The show is bound to be lit, especially if he decides to fly to Nigeria with his choir! 
5. 
Nicki Minaj: The comparisons between Cardi-B are not going to end anytime soon, so we may as well leverage on it. If Nicki Minaj was coming into Nigeria this year, everyone will be looking to see if her visit will top Cardi's. Everything she does will be compared with Cardi but that will only bring us more good publicity, so bring it on!
Now that we have finished with our fantasy list of American artists that should definitely come to Nigeria in 2020, we want to hear from you. If you could attend any of their concerts, whose concert would you attend? Let us know in the comment section below!
Ⓒ Copyright NET News Ltd. All Rights Reserved. Please use sharing tools. Do not cut, copy or lift any content from this website without our consent.