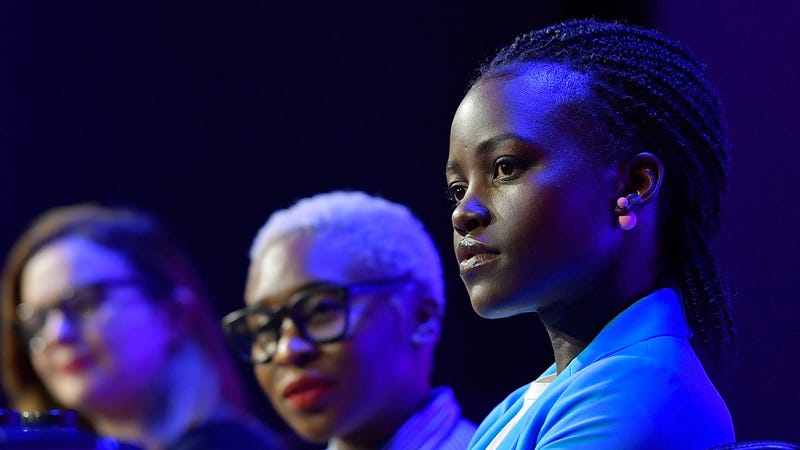 The Tribeca Film Festival took place last weekend and a major part of the event was the panel organized by the Time's Up organization. A number of notable Hollywood actors and #MeToo supporters discussed the issue of sexual harassment in Hollywood.
During one of the events, Lupita Nyong'o, Cynthia Erivo, Amber Tamblyn, and Mira Sorvino spoke about the need to have more women behind the scenes. Nyong'o made it known that teaming up with other women both in front of the camera and behind the scenes is how she wants to tell her story in Hollywood.
RELATED: Lupita Nyong'o Sponsors 600 School Children To See Black Panther
Here's what she said:
'I know my story best, and I want to be able to tell my story and tell it with people like me who also feel this gaping hole of representation.'
The actress spoke about how she did not see herself represented on television while growing up in Kenya.
'When I switched on my television when I was younger living in Kenya, there was never anybody that looked like me on there, so seldom. Even when they were black, they were never dark. I was able to relate to the people that I saw, but it wasn't until I was much older that I started to realize what was missing on that screen, and not seeing myself was causing a self-conscious self-hate that I only grew aware of when I was a teenager and started to recognize my insecurities.'
READ ALSO: #WakandaForLife: Lupita Nyong'o And Danai Gurira To Reunite For Chimamanda Ngozi Adichie's 'Americanah' Movie Adaptation
Not one to talk the talk without walking the walk, Lupita is currently working with Black Panther co-star, Danai Gurira, on a television adaptation of Chimamanda Ngozi Adichie's Americanah. Nyong'o has also taken on a number of roles in box office hits such as Black Panther and Star Wars recently which celebrate diversity.
Ⓒ Copyright NET News Ltd. All Rights Reserved. Please use sharing tools. Do not cut, copy or lift any content from this website without our consent.