First off, let's all agree here and now that cats rule. The End.
I'm pretty sure everyone has heard about the new 'Black Panther' movie (If you haven't, you really need to get a life) and we have all waited with bathed breath since we first saw him in 'Captain America: Civil War'. So there's no need to give you a synopsis, right? Right? Urghh… Fiineeeee *insert eye-roll*
So this is the story of T'Challa, King of Wakanda, a fictitious, isolated but technologically advanced African nation. He rises to the throne after the assassination of his father T'chaka, but his reign is challenged by a vengeful outsider who was a childhood victim of T'Challa's father's mistake.
Faced with treachery and danger, the young king must rally his allies and release the full power of the Black Panther to defeat his foes and secure the safety of his people.
Now, this movie, co-written and directed by Ryan Coogler, had so many good parts one might be tempted to gloss over the bad, but I am not one, I am Sandra, and so, we will talk about both.
While it doesn't have an overly extraordinary story in my opinion (we've even seen it before – Mufasa and Scar anyone?), it's gripping, well researched, (note all the actual African tribes, accents and languages they represented?) funny, and full of spectacle.
Here are a number of things I loved…
The film's portrayal of Wakanda was impressive.
Marvel really excelled at creating this world. I would like to thank the gods that inspired Coogler to turn a superhero movie into an unabashed, joyful expression of the Afrofuturism movement. The costumes, the makeup, the accents (i really hated this one sha), the sets designs, the ritual with the heart-shaped herb, the rites of passage at Warrior Falls, the art and design work. They're all expressly meant to respect and echo the traditions of existing African peoples but in a modern way.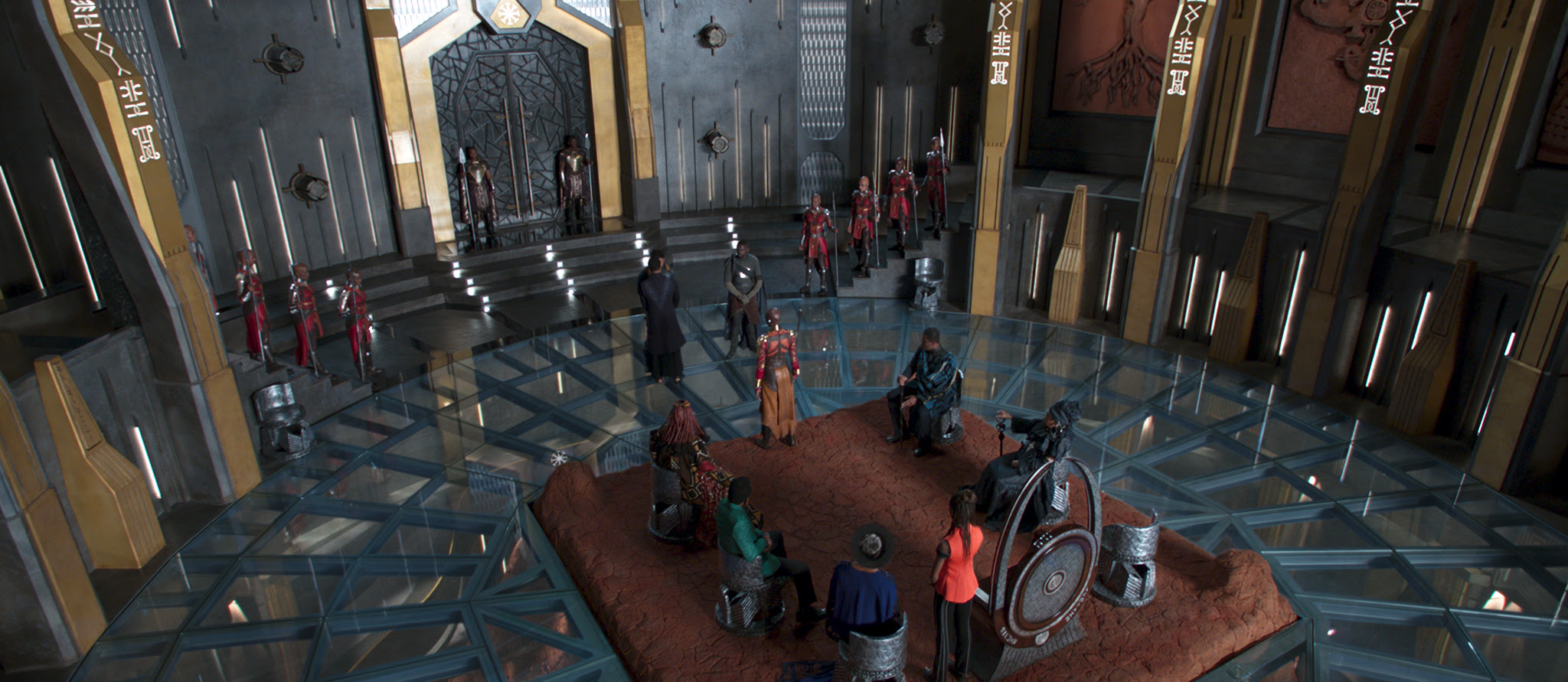 Shuri's tech lab looked like the meeting point between Q's hangout in a James Bond film, an African folk-art exhibit, and a graffiti-punk bar.
From a visual and dramatic perspective, it was glorious (and I didn't even watch with 3D glasses – Filmhouse needs to do better)! It feels like a living, breathing society and we immediately understand why Wakanda's isolation and uniqueness are worth protecting.
The Strong Women
I love how strong the women in this story are. From Angela Bassett, T'challa's mother, all the way down to the little lady who plays the clan leader that shouted a very Nigerian "Heeii!!" when Kilmonger (Michael B. Jordan) made his big reveal.
I love how Coogler and MCU built an idyllic world where the men are not threatened by the power of the women. Their powers are complimentary, a reference to ancient Africa where women were leaders, worshipped as deities and were treated in many parts as equals.
T'Challa saw the women around him as equals. He always looked to Shuri, Nakia, Okoye, etc for leadership and support. He wanted Nakia to do her but also consider working him into her plans. (There's a hilarious scene where he wasn't supposed to freeze and he did).
Shuri created all of Wakanda's advanced technology. She re-designed #BlackPanther's costume and was right there and ready to go for her big bro when T'Challa needed that car for the chase. That scene in her lab at the beginning of the movie was amazing and hilarious too.
General Okoye, played by Danai Gurira was such a strong warrior. I love her ferocity and her dedication to her causes. Her determination to serve Wakanda, not just T'Challa, is admirable and gives the film more than one take on duty and honour. (That scene with her lover kneeling before her was everything! Men deferring to the women, as it should be 😀 ).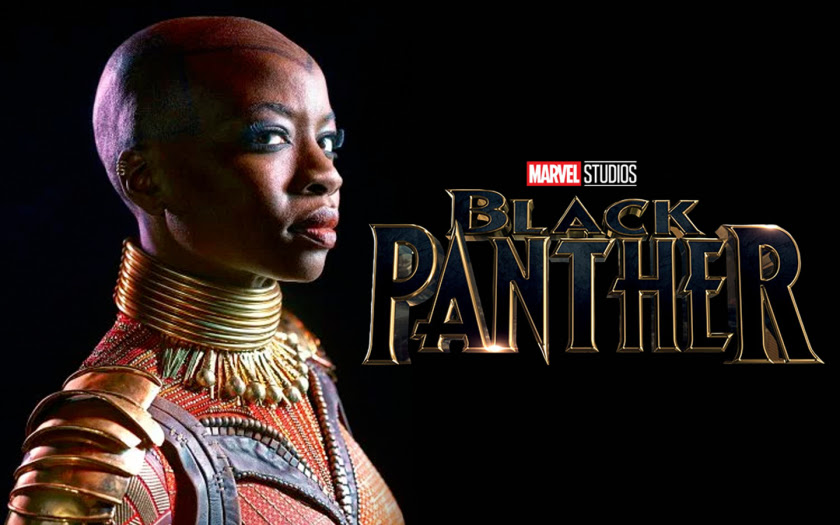 Okoye was ready to beat anybody who put hands on T'Challa (her face when that "colonizer" put his hands on T'challa's shoulder was priceless!).
Current Issues
"More connects us than separates us — but in times of crisis, the wise build bridges while the foolish build barriers. We must find a way to look after one another as if we were one tribe." – T'challa, 2018. (America coman take your shade)
I love that the movie didn't shy away from addressing real life issues like economic disparity, immigration, the refugee crisis and terrorism. This movie impressively weaves all of these current issues into the story at a core thematic level and even better, doesn't pretend to offer easy answers or platitudes.
There was a reference scene about Boko Haram and child-soldiers that had me going "oh man you are not messing around here!"
Cast Ensemble

Angela Bassett as Queen Ramonda, T'challa's mother, was fabulous as always. My only wish was to have seen more of her. Forest Whitaker as Zuri, Wakanda's spiritual advisor and source of wisdom, was beautiful to watch.
Chad Boseman as the Black Panther gives us a strong, honourable and, when possible, graceful, hero. I hated the voice he spoke in (anybody else noticed he sounded like Mandela?) but that may be because I am so used to superheroes having obvious, confident, booming voices. Did he do justice to the character? I thought so.
Now I realise that Michael B. Jordan has been getting a lot of love for his portrayal of Erik Killmonger but I honestly thought he overdid with the swaggering. Like, we get it, you're a bad boy, ees ok. His anger came through though and when you watch and find out the (i have to say very cliché) reason for his anger, you may even root for him.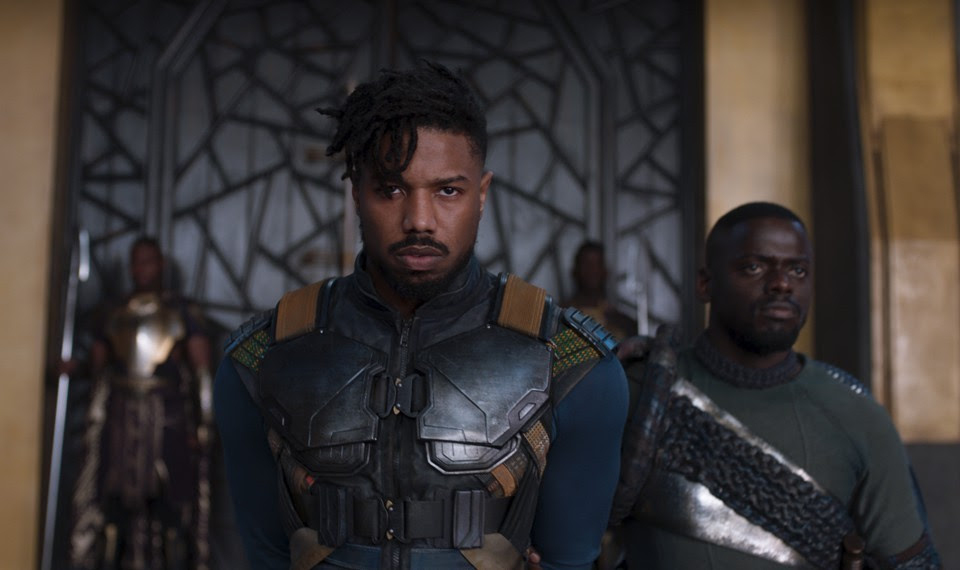 I've already gushed about Lupita, Danai and Letitia. Go watch these queens bring it!
Winston Duke as M'baku has to be my very favourite in this movie, and no, it's not because he's a gorgeous man (who happens to be my spec) and his accent was very Igbo. (ok yes it is, but there were other things too!)
M'Baku was hilarious! That scene where he tells Ross 'I'll feed you to my children' and then chuckles and smiles and says 'just kidding, we're vegetarian' and then continues to laugh, was everything!!
Daniel Kaaluya is a fabulous actor (as we've seen in Black Mirror and Get Out), but as W'Kabi, his character is pretty lacklustre. Not his fault really, given that the script did not give him enough breathing room. His character is underwritten and swings back and forth as the plot demands but he does manage to beautifully execute that powerful scene with Okoye at the end.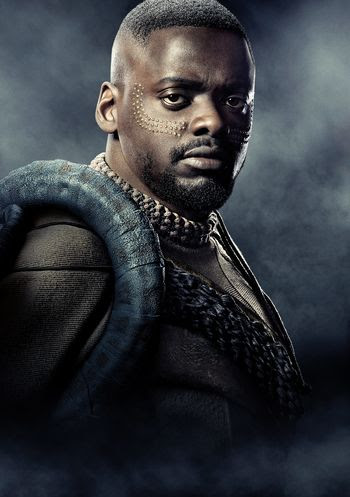 Andy Serkis as Klaue was delightfully mad! I loved his brand of psychosis and the marriage between him and Killmonger worked out great for all parties involved.
Soundtrack
I know how everyone cannot stop talking about Kendrick Lamar's soundtrack – I mean it's only the number album on the Billboard 200 charts and is projected to stay there for a second week in row – but can we all pause for a sec and recognise that South African jam playing in the background during the scene at the lab with Shuri and T'challa?
I legit screamed "Yoooo!"
And now for things I didn't like…
This movie was really good but there was something missing and I can't seem to put my finger on it.
Perhaps it is because a lot of the fighting sequences come across as pretty choppy. The casino battle, in particular, was blurry enough that it was difficult to follow who was hitting who. For a movie so huge, a lot of the combat scenes were fuzzy visual noise and that was frustrating.
Or maybe it was the story itself.
I started by stating that the story was a pretty familiar one and offered nothing spectacular plot-wise (strong subjects notwithstanding) but I preferred it when the stakes were personal for Killmonger and T'challa.
 The movie's attempt to tack on a threat to the world fell flat. The threat of the Wakandan War Dogs destabilizing world governments was never tangible enough to be concerning.
Could it be…
The accent.
Yes, I know it's a fictional world but i still don't like the generic Hollywood "African accent". I do appreciate that they tried to diversify it but I still cringed throughout most of the first couple of scenes. We all do not speak in that accent, Hollywood!
or
The Lip ID
Where can I load up on geek juice? Because that lip thing didn't work for me at all. Plus it seemed mighty unsanitary.
Or even an inability to really relate.
As an Igbo Nigerian living on the mother continent and constantly faced with my culture, I cannot claim to understand why this movie is so culturally symbolic for the  African-American who is so psyched to see and experience it, she wears Ankara to the theatre. I'm pretty sure there were a bunch of cultural and racial nuances that were lost on me because I do not possess the requisite experience. In simple English, I can't relate. I don't feel the fevered frenzy the African American does at the thought of or while watching this movie. I just wanted to see it because the cast was all black, it was a Marvel movie (I'm team marvel, yes) and that scene with the Panther flipping over a tumbling car was pretty awesome.
Was it worth it for me? Hell yea!
Was it worth the Hype? Go watch and tell me.
Over 5, issa 4 from me. (just because of the things I didn't like)
P.S, do not leave at the end of a Marvel movie. Only rookies do that. Are you a rookie?
---
Sandra Ezekwesili is an On Air Personality by day and a couch potato for the rest of the day. A couch on which she lays to watch movies and make noise on twitter.
Twitter: @sezekwesili
Instagram/Facebook: Sandyjaga

Sandra Ezekwesili is an On Air Personality on Cool FM Port-Harcourt by day and a couch potato for the rest of the day. A couch on which she lays to binge watch movies and make noise on twitter.
Twitter: @sezekwesili
Instagram/Facebook: Sandyjaga
Ⓒ Copyright NET News Ltd. All Rights Reserved. Please use sharing tools. Do not cut, copy or lift any content from this website without our consent.