At the age of 30, and closer than ever to retirement, Nigerian John Odion Ighalo just completed a transfer loan deal from his Chinese team Shanghai Shenhua, to the Old Trafford fields of Manchester United for the remainder of the 2019/2020 season.
Childhood
Growing up in a humble home in Lagos, playing football on the streets of Ajegunle, all Ighalo had were his dreams, passion and skill. Now he's going to play with one of the biggest teams in the world, even if for a little while. 
Career
Ighalo was 16 when he was discovered by then FIFA agent Marcelo Houseman who brought him to Norway to play for Lyn Oslo. Before moving to Lyn Oslo of Norway, he played in Nigeria for Prime Fc and Julius Berger. He then moved to Italy with Udinese and Granada on loan spells before his Watford Career.
Watford, England
He was in Watford from 2014 – 2017 where he performed impressively. He made history by becoming the first Watford player to score straight top flight games. The former Super Eagles player scored 33 goals in 82 games for Watford during his stint in England. 
Shanghai Shenhua, China
Ighalo made the move to China, playing for the Shanghai Greenland Shenhua team in 2017, where he has had a relatively successful time.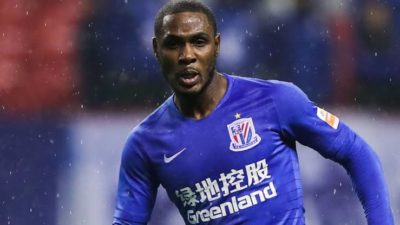 Super Eagles
Ighalo who won the AFCON's Golden Boot award with five goals in 2019, is the seventh all time highest Super Eagles goalscorer in history, scoring 16 goals in 35 appearances for the Super Eagles.
He took to his Instagram to announce his departure from the national Super Eagles team after the AFCON. 
'This is one of the most difficult career decisions I have had to take. It's been an amazing 5 years journey, but after due consultation and extensive discussion with my family I have decided it's time for me to retire from the National team. It has been an eventful and most memorable opportunity to serve my country with pride, passion and to contribute my quota to the development of our football, the memories would stay with me for a long time and I'm immensely grateful. It is now time to concentrate on Club football and give the younger players chance to learn and grow'. 
Ighalo has been described as having a clear eye for goals and possessing the ability to find space in the opposition's penalty box and the knack for scoring goals and unleashing some clever and improvised finishes.
The striker has had an interesting career, even though the prolific player has enjoyed praises and commendations from coaches and teammates, he has not had as high flying a career as he could have had. He has not had the opportunity to play with the biggest teams. He has also had to endure several transfers and loans during his career. He had to fight to become a full time player for Watford upon his transfer.   
Future   
The former Watford player had been loaned off to Manchester United for the rest of the season to fill in the spot left by Marcus Rashford who is out because of an injury.

Ighalo's transfer was not met with a lot of enthusiasm. Many people are not sure if the Shanghai Shenhua player will be able to deliver at a Manchester United level, the next 6 months will show what Ighalo is made of. 
In spite of how rocky his career has been, John Ighalo has been consistent and has maintained his energy and passion for the game through the years. Just when it seemed like his career was about to fizzle out in Asia, Ighalo's career suddenly gets a boost and he's playing for one of the biggest clubs in the world now. 
Ighalo speaking with Sky Sports News about his transfer shares, 
'This is a great opportunity for me and I am grateful to God, and to my agent, and the coach who has given me this opportunity to be here. I am happy to be here and to work out with the team and finish very well this season.'
The former Super Eagles player has been a fan of the Manchester United team since childhood, and now he's in their ranks.
We're excited for Ighalo on his new career move. 
Ⓒ Copyright NET News Ltd. All Rights Reserved. Please use sharing tools. Do not cut, copy or lift any content from this website without our consent.