The most influential rapper of the last decade, Olamide, released his second EP (his first individual EP) and first project since 2017's "Lagos Nawa!". The EP is called 999 and it is Olamide's 10th studio project overall since he came on the scene in 2011. The project has nine songs and features only one big name act – Phyno. All the other acts on the project are budding talent which Olamide discovered in sometimes random ways and that is the big draw of this project: new talent to be excited about.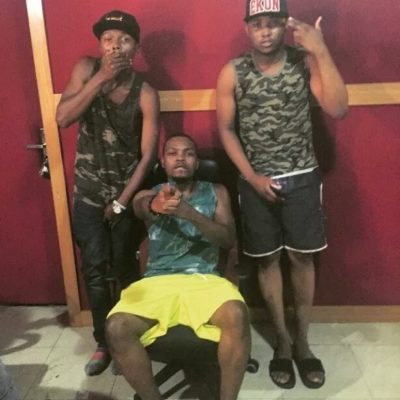 You get a feel of the new talent as early as track two of the project "Warlords" which features Phyno, two of his artistes Rhatti and Cheque, and young singer Snow. On the third track, Olamide enlists the help of his first child, Batifeori Maximilliano Adedeji aka Milly, for a cameo appearance. 
Sosa E
"Dance with the devil" is track four of the 999 EP and it features upcoming rapper Sosa-E, who also released a new single titled "Confam" in January. He raps about flexing on a lady on the song and holds his own in the midst of Olamide and Jackmillz. His delivery is lively, he hits his punchlines properly and even switches up his rhyme scheme a couple times in the verse. In this tweet, Olamide said he found Sosa E on Instagram. "Bro, I was nervous as fuck," said Sosa E on Twitter,  in response to a question about the song Dance with the devil. "Imagine having to rap in a quiet room in front of The Olamide." We reached out him for comments but he is yet to respond.
Jackmillz
Singer and fashion designer Jackmillz (who doesn't even sound like a Nigerian act) features on two of the tracks – "Dance with the devil" and "Demons". On "Dance with the devil", Jackmillz raps about a lady's desire to have sex with him on that songs very bouncy beat. On "Demons", a song about inner demons and staying sane in the midst of constant hustle, the young singer delivers stellar vocals on both the chorus and his verse. If those performances are anything to go by, then this kid definitely has a huge future ahead of him. Olamide found him via Instagram's Explore section. Jackmillz is yet to respond to our o respond to our enquirers. 
Jayboi
This gifted rapper features on track 7 "Mojo," a cross between braggadocio and kinky sex talk lyrics layered on a bass-heavy trap beat. He takes the chorus, bridge and second verse of the song, coming through in fine fashion. Olamide tweeted that he met Jayboi at a hotel in Abeokuta. We reached out to Jayboi at the time of writing this article but we are yet to receive a response.
Just like most of his other projects, Olamide has once again used this EP to showcase interesting talent from the Nigerian music industry much like he has done for Lil Kesh, Adekunle Gold, Temi Ovwasa, and most recently Fireboy DML. And this is what he has done for the past decade alongside dropping a guaranteed hit every other month. We reach to him and his manager to get their comments on this but they are yet to respond at the time of writing this article. 
On the production side of the 999 project, Olamide enlists frequent collaborator Pheelz, ID Cabasa, Eskeez, and Cracker Mallo, among others. The project explores themes around hustling ("No Time"), fame ("Rich & famous") and generational wealth ("Billion Talk"). All in all, it's a solid project, different from the regular tungba stuff Olamide has been churning out and offers a good mix of lyrics, great beats and great talent. 
Have you listened to Olamide's latest EP 999? Let us know what you think about it in the comments section!
Ⓒ Copyright NET News Ltd. All Rights Reserved. Please use sharing tools. Do not cut, copy or lift any content from this website without our consent.