DStv BoxOffice is a movie lifesaver. This is Lagos and the thought of getting into some traffic just to catch a newly released movie can be mentally draining.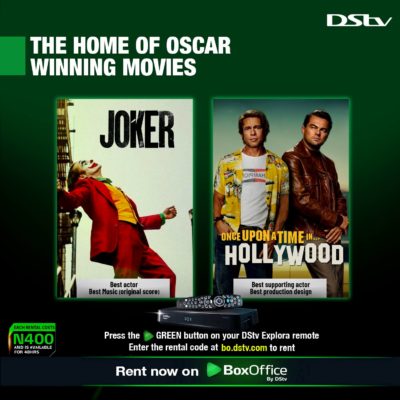 This February, the biggest award event in the world for film and television took place and you can rent some of the big wins on DStv BoxOffice. Did we mention it is way cheaper than taking a trip to cinemas? Not only do we have Oscar award-winning movies but there are many more movies for your pure entertainment.
ONCE UPON A TIME IN HOLLYWOOD
Leonardo DiCaprio, Brad Pitt and Margot Robbie lend their talent to Quentin Tarantino's Golden Globe-winning ode to Hollywood's golden age. The movie follows the stories of a faded television actor, his stunt double and actor Sharon Tate. A big contender for the Oscars this year with ten nominations including Best Actor and Best Picture,
THE JOKER
Joaquin Phoenix gives an amazing performance in this bleak and powerful thriller about the origins of the famous Batman villain, The Joker. Arthur Fleck tries his hand as a stand-up comic in this award-winning film. Longing for any light to shine on him, but finds the joke always seems to be on him. The movie is gunning for Best Actor, Best Picture and nine more nominations.
BoxOffice Online, the online version of the movie rental service is available to anyone with a DStv Connect ID and a BoxOffice Account. You can sign up at www.dstv.com/boxoffice or www.boxoffice.dstv.com. Here, you'll have instant access to a larger catalogue of movies, including new releases and classics.
Ⓒ Copyright NET News Ltd. All Rights Reserved. Please use sharing tools. Do not cut, copy or lift any content from this website without our consent.